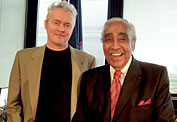 CHARLES RANGEL - June 2014
– Caeser interviewed controversial congressman Charles Rangel to discuss labor and race in America. After the interview the congressman said, "If I wasn't retiring I couldn't have been so honest with you."

U.S. CONGRESS - MAY 2014
– On a recent trip to Washington D.C, Caeser interviewed congressional leaders Gwen Moore, Jan Schakowski, and Mark Pocan.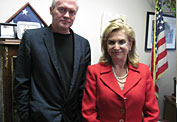 CAROLYN B. MALONEY - April 2014
– Caeser interviewed congresswoman Carolyn B. Maloney to discuss labor in America.
JESSE JACKSON - October 7, 2013
– Although it took almost 50 calls and emails to arrange, a last minute interview was scheduled with Reverend Jesse Jackson at the Midtown Hilton in New York City. During the interview Jackson spoke about his experiences during the Memphis Sanitation Workers Strike, which led to the Martin Luther King assignation. Even at 7:30am and with a full schedule, Jackson was generous with his time, even offering to take pictures with each member of the crew.
DISASTER IN CHICAGO - September 25, 2013
– While in Chicago to film interviews about the Haymarket Affair, disaster struck when $6,000 worth of equipment was stolen from the car. The loss included two cameras, a light kit, and an assortment of microphones. Because of the robbery the shoot had to be cancelled two days before completion. It was a very disouraging development, but the only thingto do was move forward...
LANSING, MI: September 24, 2013
– From Detroit Pink went to Michigan's state capitol, Lansing in order to investigate the anti-union legislation passed by Governor Rick Snyder's administration. Among those interviewed were Chad Livengood, political Reporter for the Detroit News, Kristen Daun, Reporter for the Lansing State Journal, and Ray Holman, Legislative Liaison for United Auto Workers Local 6000.
DETROIT/BOB KING: September 22, 2013– Caeser had the honor of interviewing United Auto Workers president Bob King while in Detroit, MI. While there he also interviewed Desiree Conyers a union activist and nurse in the University of Michigan Health System, Eloise Moore, Detroit Public School Staffer and Activist for the American Federation of Teachers, and Albert Garrett, president of AFSCEM Council 25.
LUDDLOW MASSACRE - September 18, 2013
– Caeser travelled to Pueblo, Colorado to film interviews about the Ludlow Strike & Massacre. The interviews included Bob Butero United Mine Workers of America Region 4 director, Dr. Fawn Montoya Director of Chicano Studies at the Colorado State University, and Jonathan Reese Professor of History at the Colorado State University.
CAESAR CHAVEZ FOUNDATION - September 15, 2012
– After the AFO-CIO Convention Caeser travelled to Keene, CA to film at the Caesar Chavez Center where he interviewed Paul Chavez (Son of Caesar Chavez) and Arturo Rodriguez (Caesar's brother-in-law). The center is also a beautiful national park, monument, and burial site of Chavez. After the shoot Pink drove north and filmed migrant workers picking grapes and peaches in the fertile farmlands
ACCIDENTS HAPPEN - September 13, 2013
– On the third day of the AFL-CIO Convention a minor disaster struck when Caeser had an auto accident with a city bus. Although the vehicles were only moving at 10MPH, the weight of the bus crushed in the door of Caeser's Blazer. Afterwards he drove for 30 miles holding the door closed with his right arm so that he could find a truck stop where he could buy a crowbar to bend the door out enough to close. For the rest of the trip Caeser was forced to exit the vehicle through the passenger door.
AFL-CIO CONVENTION - September 11, 2013
– Caeser Pink attended the AFL-CIO National Convention in Los Angeles. Among the people interviewed at the convention were Donald Marcus International President of the Masters, Mates, and Pilots union, and George Nee President of the Rhode Island AFL-CIO who worked with Caesar Chavez.
CROSS-COUNTRY SHOOT - September 4, 2013
– Caeser Pink began a three-week cross-country road trip to shoot for the Strength In Union film. Due to a lack of funds the shoot was done with guerilla-style filmmaking. Most nights Pink slept in the back of his Chevy Blazer and showered at truck stops. In the first four days he drove from New York to Los Angeles, sometimes covering 800 miles per day.
KPFT Radio - August 19, 2013
- On Friday August 23rd at 9:30pm EST, Film director Caeser Pink and producer Dan Waingarten will be appearing on the Voices At Work radio show on KPFT 90.1 which broadcasts from Houston, TX. You can also listen online at www.kpft.org or by
clicking here
.
Lance Henriksen - August 17, 2013
- We got word that legendary sci-fi and horror actor Lance Henriksen will sign on as one of the narration actors in the Strength In Union film. Lance is known for films such as Aliens, The Right Stuff, Terminator, and the TV series Millennium. To see the incredible list of films that Lance has starred in
click here
.
Truthout.org - August 16, 2013
- "The labor movement will be televised!" Thanks go out to Truthout.org for their article on the Strength In Union film. To view the full article
click here
.
WWRL Radio - August 15, 2013
- New York City talk radio station WWRL recently broadcast an interview with Strength In Union director Caeser Pink and producer Dan Waingarten.
New Hampshire Labor News- August 14, 2013
- Thanks go out to the New Hampshire Labor News who wrote a nice article about the Strength In Union film. To read the full article
click here
.
Global & Labor Solidarity - August 12, 2013
- In August Strength In Union attended the Murphy Center Labor & Global Solidarity convention. While there we interviewed nine sociologists who study labor and globalism. This footage will be used for the final section of the film when we look at the future of labor.
Barbara Hershey - July 18, 2013
- In July we had the honor of working with Oscar nominee, Emmy Award winner, and two-time Golden Globe winning actress Barbra Hershey (Beaches, Hannah & Her Sisters, Last Temptation Of Christ, Black Swan). Barbara believed in the Strength In Union cause enough to donate her time at a fraction of what she would usually get paid. She was a lovely woman to work with and her tremendous acting skills really brought the narration text to life. She is playing the role of a mill worker during a strike in Lowell, Mass.
Labor Research Action Conference - June 19-20, 2013
- The Strength In Union team attended the Labor Research Action network Conference at the Georgetown Law Center. The conference brought together labor leaders, activists, and labor studies professors from top universities. We filmed 10 interviews and had a chance to build connections with a range of important people within the labor movement, included a brief meeting with AFL-CIO president Richard Trumka. We also snuck out of the conference to film a few quick interviews at the 'audit the IRS' Tea Party rally.
Dr. Alice Kessler-Harris - June 15, 2013
- We are happy to announce the addition of Alice Kessler-Harris, author of to our board of distinguished advisors! Dr. Kessler-Harris is a professor of American History at Columbia University, and the former president of the Organization of American Historians. We also had the chance to discuss gender issues and labor with her during an interview at Columbia. Her most recent book A Difficult Woman: The Challenging Life and Times of Lillian Hellman was published in 2012.
LAWCHA Labor History Conference - June 6-8, 2013
- We had the great opportunity and pleasure to attend the 2013 LAWCHA Labor History conference in Manhattan. The conference brought historians and labor studies experts from around world together to discuss the future of labor. During the conference we filmed 18 hour-long interviews with people such as Dr. Frances Fox Piven,Dr. Daniel Katz, Judith Ancel, and Dr. Jeffrey B. Perry.
Dr. Joseph A. McCartin - April 19, 2013
- We would like welcome Dr. Joseph A. McCartin of Georgetown University to our team. Dr McCartin has agreed to act as an advisor to help ensure historical accuracy in the film.
Pete Seeger Shoot -April 18, 2013
- The Pete Seeger shoot was an amazing experience that none of us will ever forget. Pete was great in every way. He did his narration part like a pro actor, during his interview it was amazing to hear the stories of his life, including experiences with Woody Guthrie and Alan Lomax. Afterward Pete hung out and sang songs and told stories.
Reg E. Cathey - April 16, 2013
- Our narration recording session with Reg E. Cathey was both very successful and a fun time. Reg's voice was amazing and his delivery fantastic. He was also a cool, down to earth guy who believes in the cause of labor.
Dr. Gene Carroll - March 28, 2013
- We would like welcome Dr. Gene Carroll of Cornell University to our team. Dr Carroll has agreed to act as an advisor to help ensure historical accuracy in the film.
Daniel Waingarten - March 24, 2013
- We would like to introduce Daniel Waingarten, a new producer on the Strength In Union team.
Pete Seeger - March 20, 2013
- The day started with a call from the daughter of legendary folk singer Pete Seeger. She called to say that she believes Pete will be willing to do some narration for the film.
Reg E. Cathey - March 19, 2013
- Today we received word that actor Reg E. Cathey (The Wire, House Of Cards) is willing to narrate our teaser-trailer and possibly be the main narrator for the film.
July, 2012
Arete living Arts would like to annouce a new film production titled Strength In Union. The project will epic documentary series about the history of the American labor movement. The film will consist of four one-hour episodes beginning in the early 1800s and ending with the current political and economic challenges facing labor unions in the current era.
May 31, 2011 1
As part of Arete's mission to bring arts and ideas to rural areas of America, on May 6 Arete presented a multimedia performance at the Green Gables in Lewistown, PA. The event featured 13 musicians, dancers, and actors, and was greeted with enthusiasm from the locals in attendance.
Below are a few examples of feedback from those in attendance at the performance:
Incredible show at the Gables. Beyond just a performance, an Enlightening Experience! -
D. MIller
So much talent, it was truly incredible! I would like to call your show "brilliant chaos". There were so many dimensions, it was truly an experience! Just amazing!! -
J. Gydoesh
The most incredible show Lewistown's ever seen! Bravo! -
J. Mertz
Excellent show! Once again you guys reminded me how much I like performers that fearlessly throw out the rule book and ignore all boundaries! Once again, a total audiovisual head rush! Incredible!
- J. Price
Thanks for the show! It is amazing the amount of energy you all put into the performance! So much it pulls the spectators into it with you! -
M. Mitchell
March 1, 2011
Arete Living Arts received a generous grant from the
New York Council Of Nonprofits.
In addition to a cash award the grant provides 45 hours of consultation with technical and legal advisors, and access to a wide array of classes and workshops.

December 12, 2010
- Arete Living Arts was awarded a grant from the George A. Robinson IV Foundation. 90% of the grant will be used to fund a project by photographer Anthony Karen that documents the Smile Train medical team that provides free facial reconstruction operations to people in third world countries. To see Anthony's work
click here.
November 1, 2010
- Caeser Pink's film Shibari took the top prize for best short film at the Fetisch Film Festival in Kiel, Germany!
October 12, 2010
- Arete Living Arts was awarded a grant from the Pa. Council On The Arts. The grant was to help fund a multimedia performance in Mifflin County.
|
September 10, 2010
Caeser Pink's experimental art film Shibari will be featured in a film festival in Kiel, Germany. It will be shown on October 30 at 9:30 PM.
October 31st
at 9:00 EST an hour long TV special titled Caeser Pink Live At Chashsama will be broadcast on the Brooklyn Cable TV Networks. The special is a concert film from a 2009 performace at the Chashama Art Space.
May 22nd, 2009
- Arete Living Arts presents Satorism - An exhibition of art that inspires personal, political, or spiritual awakening.
The one day exhibition featured the artists Stephen Woods, Jorge Namerow, Jody Fallon, Jennie Booth, Liya Sheer, Keith Duncan, Helene Ruiz, Steve Geyer, Cheryl Fallon, and Danylo Pelonis.
There was also a multimedia performance presented by Caeser Pink that had the crowd entranced and on their feet.